Congratulations – you've officially migrated to one of the industry-leading cloud providers and the hard work is done!  However, now is not the time to bow your head when it comes to data security.  To ensure your organization benefits from what cloud hosting has to offer, it's important that CSPM is also in place.  But what is CSPM?
Cloud Security Posture Management (CSPM) is defined as "a continuous process of cloud security improvement and adaptation to reduce the likelihood of a successful attack."
In this blog, we highlight some of the Top Cloud Providers, Top Cloud Security Threats, and Top Cloud Security Best Practices to guide you on the right track.
Cloud Hosting – Key Players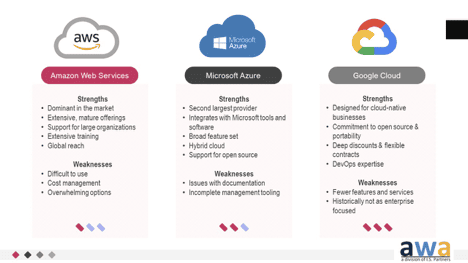 Top 5 Cloud Security Threats
There are numerous reasons why businesses today are moving to the cloud. Some of these include efficiency, accessibility, fast speeds… the list goes on. It is also thought that the cloud is "safe" from hackers. The truth is that while it is a secure option, the cloud also introduces a new/different set of security risks. Hackers have realized that businesses are using the cloud more than ever, so they have adjusted their approach for today's world. Many times, hackers take advantage of an organization's lack of knowledge around cloud security controls.
Below are the top 5 cloud security threats that organizations should still be cautious of –
Data Breaches:

Lack of data value definition & loss impact
Failure to regularly review access to critical or sensitive data
Misconfiguration
Inadequate encryption methods
Inadequate incident response plan


Insufficient identity, credential, access & key management:

Failure to use strong passwords
Failure to use multi-factor authentication
Inadequately protected credentials
Lack of automated rotation of cryptographic keys, passwords, and certificates


Insecure interfaces & APIs:

Inadequate protection of API keys
Reusage of API keys
Inadequate penetration testing
Account hijacking:

Failure to address the root cause of stolen account credentials
Weak Identity Access Management (IAM) controls


Insider threats (intentional or negligent):

Poor security education & training for employees/contractors
Failure to regularly audit server configurations

Top 5 Cloud Security Best Practices
As you can see, choosing a cloud hosting provider does not mean your organization is off the hook for ensuring data security. While hosting providers typically offer several monitoring and alerting services to help prevent a potential security incident, there are still things your organization is responsible for to strengthen your security posture.
To keep your organization's data safe and secure, it is of the utmost importance that your cloud environment is configured based on your hosting provider's best practices. In addition to this, below are the general top 5 cloud security best practices that the organization should consider –
Carefully choose your cloud vendor

Evaluate security capabilities and levels of compliance
Ensure 24/7 data and network availability
Define vendor and organization responsibilities


Implement endpoint security

Ensure password protection
Enable multi-factor authentication
Install and manage endpoint antivirus/anti-malware


Securely manage data

Identify data value & loss impact
Implement appropriate encryption protocols
Ensure least privilege / role-based access in place


Monitor & prevent

Understand limits of cloud provider
Implement IDS/IPS
Configure monitoring alerts
Conduct due diligence

Regularly review logical & physical access controls
Annual incident response testing
Annual Penetration testing
Quarterly Vulnerability scanning
Routine third-party assessments

Evaluating Your Cloud Security Posture – Where to begin?
After you've implemented your cloud hosting provider's recommended security practices and general cloud security standards, your organization should still plan to regularly evaluate the cloud infrastructure as it relates to your business's use case. If you aren't sure where to start, let AWA International Group help by performing a Cloud Environment Security Assessment. During a Cloud Environment Security Assessment, AWA will help achieve the following:
Identify cloud security risks
Identify existing security controls & gauge strengths / vulnerabilities
Analyze gaps in current capabilities & advise solutions
Measure security maturity against industry standards
Assess effectiveness of current cloud security policies
Generate reports on compliance with the CIS Framework, AWS Well Architected Framework, and Microsoft Azure Best Practices